Archive 2022
10/2022
Organizational Structure and Management System for Erbil International Airport (EIA)
TH Airport Consulting has been contracted to develop a new organizational structure and management system for Erbil International Airport (EIA). Our team assesses the airport's current practices through employee surveys, staff interviews, and a comparative analysis of organizational structures at other international airports. The study will result in the development of a roadmap for EIA, encompassing mission, vision, and core values, as well as detailed job descriptions and updated certification requirement standard operating procedures (SOPs). Additionally, a customized plan for cultural change will be designed to cater to the specific needs of different departments at EIA.
10/2022
Torsten moderates Session 4 at WAGA 2022: Future Travellers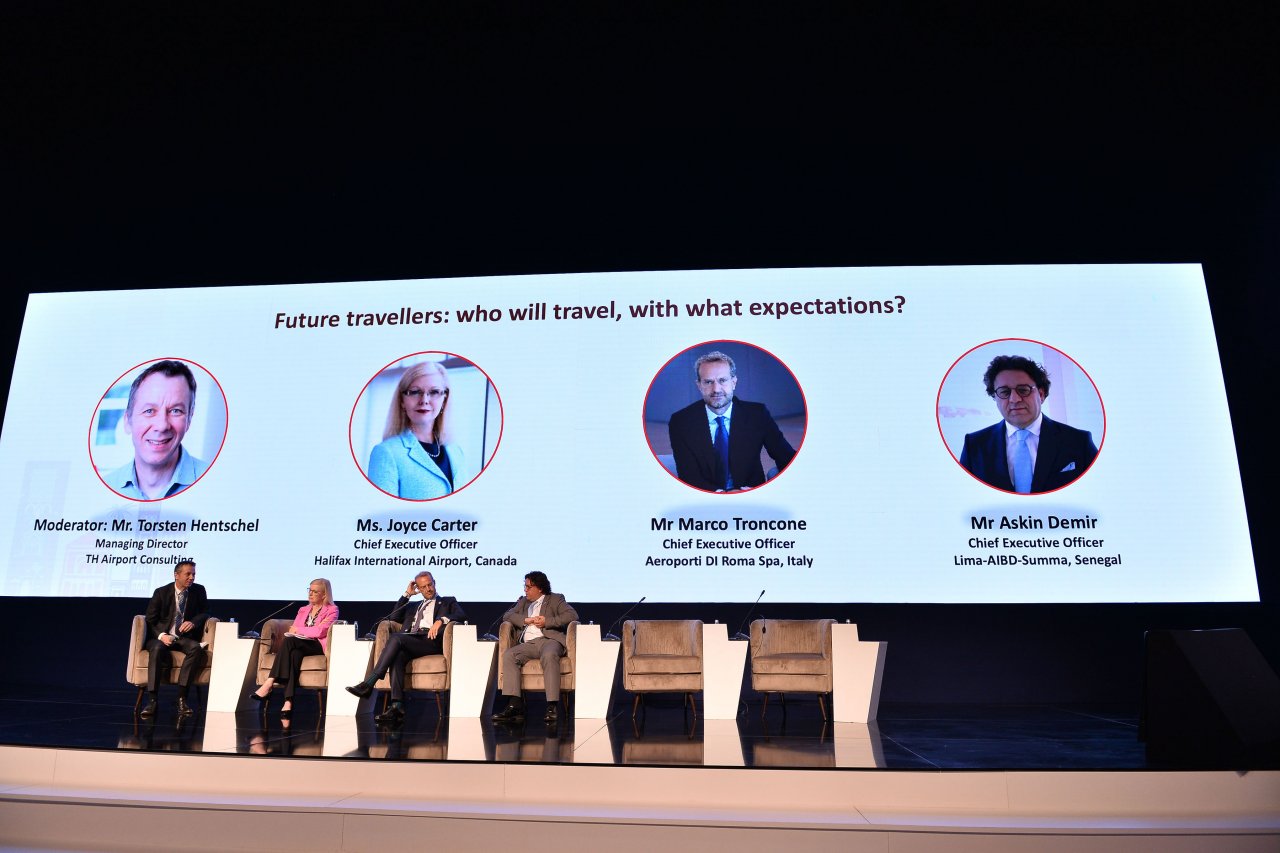 Our Managing Director, Torsten Hentschel, moderated Session 4 at the ACI World Annual General Assembly, Conference, and Exibition (WAGA) 2022 conference in Marrakech (October 25th, 2022), focusing on the changing profile and expectations of future travelers. The panel, consisting of industry leaders including Ms. Joyce Carter (Halifax International Airport, Canada), Mr. Marco Troncone (Aeroporti DI Roma Spa, Italy), and Mr. Askin Demir (Lima-AIBD-Summa,Senegal), discussed the impact of COVID-19 on travel purposes and the evolving needs of passengers.
They explored questions surrounding the future demographics of travelers, technology adaptation, and striking a balance between technology and personalized experiences. The session provided valuable insights for an expert audience seeking to understand the changing landscape of the travel industry.
Archive 2021
10/2021
Finalized Research Study on The post Covid-19 Airport Terminal
We completed a research study in cooperation with the International University of Applied Science Bad Honnef which aimed at getting a more detailed insight on how the post Covid-19 airport terminal will change in comparison to the pre-pandemic situation. Part of this research has been a survey among European Airports on their planned medium to long term initiatives to restore passenger confidence. We also initiated and supervised two Bachelor Theses looking at "Analysis and Mitigation of Touchpoints along the Passenger Journey" as well as "How can passengers' stress levels be reduced, and their wellbeing be increased during their stay at an airport?".
09/2021
We provide Training Courses for ACI Africa
TH Airport Consulting signed a 3 year contract with ACI Africa to provide several online or in-class training courses. The training program is part of the African Airports Development Program and is uniquely designed to promote capacity building for African airports. Initially we offer the following 5 day training courses which will be delivered by Torsten Hentschel and Mariola Ziolkowski:
Improving passenger experience and providing confidence during and after Covid-19
Airport terminal planning, facilitation and capacity optimization
Airport development and master planning
ORAT Program & Training Concepts
ORAT Fundamentals
ORAT - How to prepare and conduct successful familiarization training for all staff of new airport facilities
03/2021
Expanded Terminal at Batumi International Airport has been opened
The newly opened terminal in Georgia will be able to serve 1.2 mppa with a total floor area which has been doubled to 8000 sqm. Terminal capacities have been increased based on our recommendations and simulation results provided by TH Airport Consulting in 2019. This includes additional desks for check-in and border control, an expanded baggage reclaim area as well as an enlarged departure lounge. We are happy to see that the project has been finalized despite the pandemic and hope many passengers will return soon.
Archive 2020
11/2020
Shaping the Future of Travel with ACI World
Torsten Hentschel has been nominated by ACI Africa to join the prestigious ACI World Facilitation and Services Standing Committee for a 3 year term as World Business Partner representative of the African region. Nothing less than shaping the future of travel and the development of a healthy and sustainable passenger journey are on the committee's agenda. We look forward to successfully contributing our expertise and effort to the work of the committee.
10/2020
10 years TH Airport Consulting
On our 10th anniversary we say thank you to all our past and present clients, partners and friends! Without your continuous support our success would not have been possible. During these years we have been involved in more than 70 international airport projects for 15 different clients. With our research on the latest trends for airports and our contributions to ACI documents and committees we continue to add value to the aviation industry. This and the coming year would be rather difficult for our business due to the pandemic and hence we added new consulting services on sustainable airport development as well as innovative transportation modes to our portfolio.
08/2020
Airport Security and Facilitation Challenges in the New Normal
It is a fact that the restart of airport activities in the new normal poses a number of constraints for security as well as for facilitation processes, both for the airport operators and the passengers. ACI Africa has been organizing a webinar on the security and facilitation challenges in the new normal in which Torsten Hentschel, Managing Director of TH Airport Consulting, has joined a panel of well-versed speakers including Mr. Ali Tounsi, Secretary General, ACI Africa, Mr. Jason Tshabalala, Group Head of Security, Airports Company South Africa and Mr. Rajeev Lollbeharree, Head Security Services, Airports of Mauritius. You can watch the full video of the webinar and also download our presentation.
07/2020
Guidelines for a Healthy Passenger Experience at Airports
ACI EUROPE has published the "Guidelines for a Healthy Passenger Experience at Airports" which include many recommendations on initiatives to be taken by airports to restore passenger confidence during the Covid-19 pandemic. Together with a team of European Airports and other Organizations we have contributed significant parts to the guidelines and helped to create a comprehensive reference document. These guidelines will help to facilitate a unified approach among airports and to put the passenger back into the heart of the business. The full document can be downloaded here.
05/2020
How to regain Passenger Confidence during and after the COVID-19 Crisis?
Passengers might stay away from flying when confinements and flight restrictions will be lowered since flying is now considered as a risk to one's own health. Dedicated initiatives and changes are needed to save our industry and to convince passengers that travelling will be safe again. Our latest study suggests a methodology for airports on how to regain passenger confidence when traffic resumes and how to identify the needed initiatives for implementation during and after the Covid-19 crisis. Please download our presentation.
Archive 2019
12/2019
Creating a Green Passenger Journey
To fulfill the commitment to "NET ZERO Carbon Emissions by 2050" and to respond to the "Fridays for Future" movement, airports are urged to implement strategies and initiatives to minimize their ecological footprint. TH Airport Consulting therefore embarked on a research study on "Creating a Green Passenger Journey at Future Airports" in cooperation with the University of Applied Sciences Bad Honnef (IUBH). The study examines the expectations of the critical traveler as well as the major changes and initiatives needed at airports to become greener and to win back passengers. To gain broad insights into the required changes and how they can be achieved, several case studies as well as a passenger survey will be conducted.
12/2019
News from our latest projects:
Bremen International Airport: We have completed the functional design for an optimized terminal arrivals area which includes a modified baggage reclaim with new carrousels as well as centralized immigration with provisions for automated border control (ABC) and kiosks for the new Entry Exit System (EES) required by the EU.
Bologna International Airport: Together with our partners from Passepartout Training we have assessed the Passenger Experience for elderly travellers throughout the airport and provided recommendations for future improvements. The analysis has been based on the 3P (premises, process and people) methodology from the ACI "Guidelines for Passenger Services at European Airports" and the ECAC Doc 30 recommendations on best practices for PRM. Several quick wins have already been implemented and improved wayfinding and information for seniors at Bologna Airport.
07/2019
Pre-feasibility study of Batumi International Airport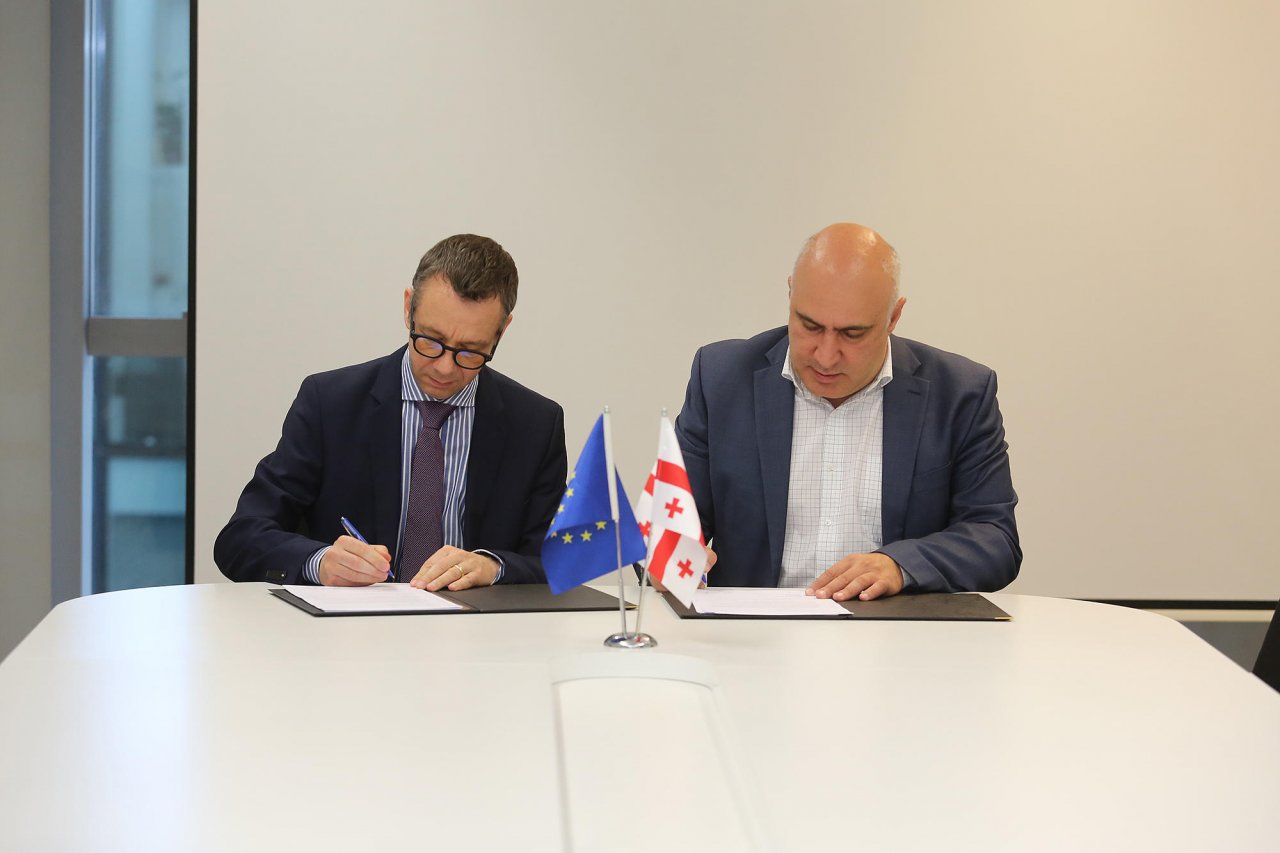 United Airports of Georgia has contracted TH Airport Consulting to conduct a capacity assessment and a pre-feasibility study on the future expansion of Batumi International Airport with a horizon of 10 years. The uniqueness of project lies on the restriction on both air- and landside of the airport due to its special geographical location – high mountains on one side, and the black sea on the other side, which limits the runway capacity. A contract signing ceremony was held on the 18th of June at the Ministry of Economy and Sustainable Development of Georgia in Tbilisi, Georgia. (More Details)
Archive 2018
12/2018
Impact of the EU Entry Exit System (EES) on Immigration Checkpoints
A small project with results of widespread importance! According to EU regulations, EES should be implemented by 2021 within EU countries for Non-EU nationals to travel in and out of the Schengen area. This includes digital registration of travelers at immigration with biometric information, travel documents, etc. by using specific EES kiosks which have to be placed in front of border control desks.
Our simulation carried out for Hamburg Airport suggests that total process and waiting times for Non-EU nationals as well as space requirements will significantly increase. Since the needed additional space is not always available, a large number of Airports in the EU will face severe bottlenecks at immigration with the introduction of EES! Solutions such as online registration need to be further examined in close coordination with national border authorities and legislators.
Torsten Hentschel is "theme leader for Passenger Experience" within ACI committee
As part of our continuous commitment for the Passenger Experience our MD Torsten Hentschel has been named "Theme Leader Passenger Experience" for the ACI EUROPE Committee for Facilitation and Customer Services. This gives us the chance to work in close cooperation with European airports on recommendations and best practices to bring forward the latest trends on passenger service improvements. We also play an active role in the newly established ACI Task Force on Baggage Handling which works on a vision to develop baggage services over the next 5 years and beyond in order to enhance the passenger experience.
Capacity assessment projects
TH Airport Consulting has successfully completed diverse capacity assessment projects for our clients in 2018. One project has been an expert assessment of existing and needed terminal capacity for Tirana International Airport, Albania. Based on simulation, we have analysed existing and future bottlenecks and recommended on needed expansions. Another capacity assessment for Clark International Airport, Philippine has been based on IATA ADRM (Airport Development Reference Manual) sizing calculations for the year 2025. In addition we have been continuously contributing to projects at Hamburg Airport with capacity simulations, e.g. Expansion of Pier South and Border Control Checkpoints.
All these project experiences have undoubtedly strengthened our expertise in airport capacity assessments and proved our service excellence.
10/2018
Hamburg Airport inaugurated new A380 Gate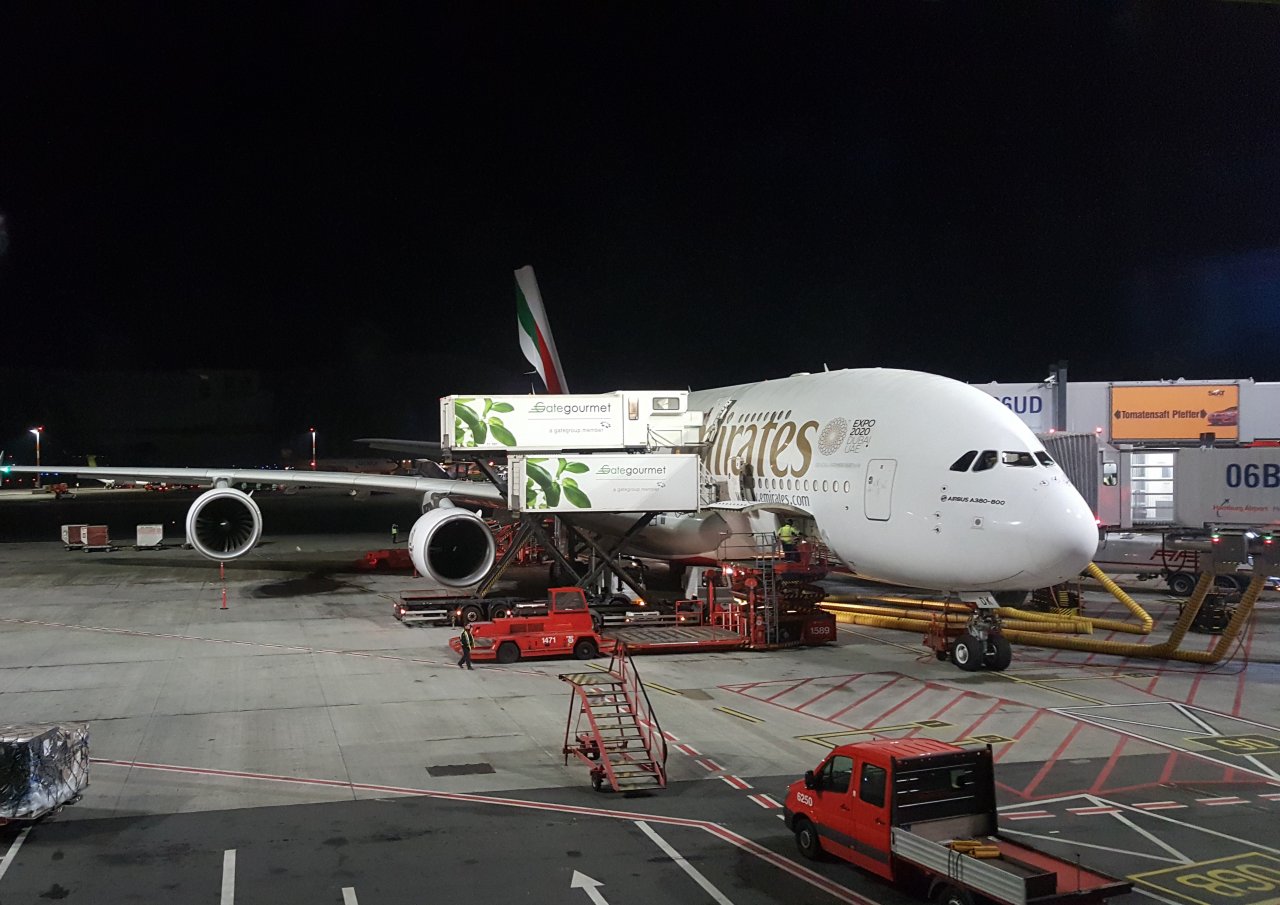 On 29.10.2018, Hamburg Airports' A380 gate with three boarding bridges has welcomed the first Emirates A380 ( see press release ). We are delighted to witness this milestone at Hamburg Airport and to be part of it. Since the beginning TH Airport Consulting has contributed to the project with consulting services such as functional and detailed layout design, capacity assessment, project coordination, etc.
08/2018
Digital Identity Management to enhance the Passenger Experience
To follow the vision of a seamless, secure and efficient walking pace journey, TH Airport Consulting sponsors and supervises a research study on Digital Identity Management (DIM). Our master candidate Nils Brüggemann from the Institute of Transport Science, RWTH Aachen University is currently working on a thesis on "Digital Identity Management to enhance the Passenger Experience at Future Airports". Through expert interviews and terminal simulation of future processes, the thesis will result in recommendations on how DIM should be implemented to enhance the Passenger Experience.
06/2018
The 2nd Edition of "Guidelines for Passenger Services at European Airports"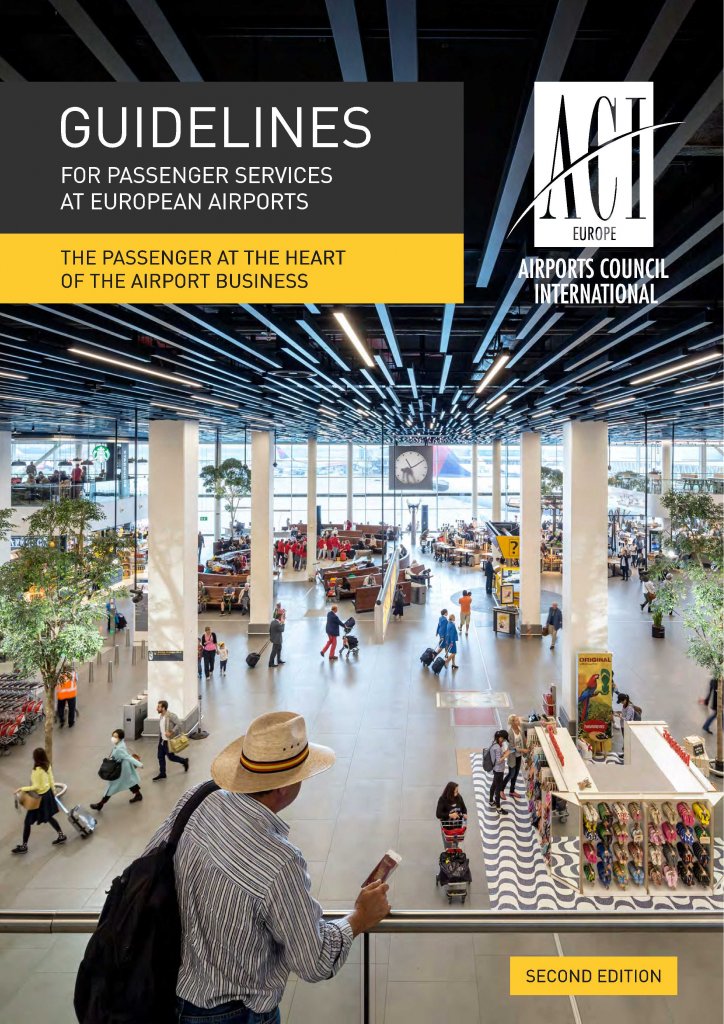 ACI EUROPE has released the 2nd edition of the "Guidelines for Passenger Services at European Airports" ! We are delighted to see that Passenger Experience is playing a more and more important roll in the aviation industry.
TH Airport Consulting contributed significant portions to the Guidelines which provide a methodology to enhance the Passenger Experience in a comprehensive and systematic way. Since its first release in 2014 we have been involved in the further development and update of the Guidelines. Torsten Hentschel, our Managing Director, has been the rapporteur (spokesman) of the ACI "Taskforce on the Passenger Experience".
Through years of research, implementation and improvement, TH Airport Consulting has become a pioneer in Passenger Experience. By applying the "3P approach" and aiming at various target groups we provide tailor-made solutions to enhance your airport.
02/2018
We have moved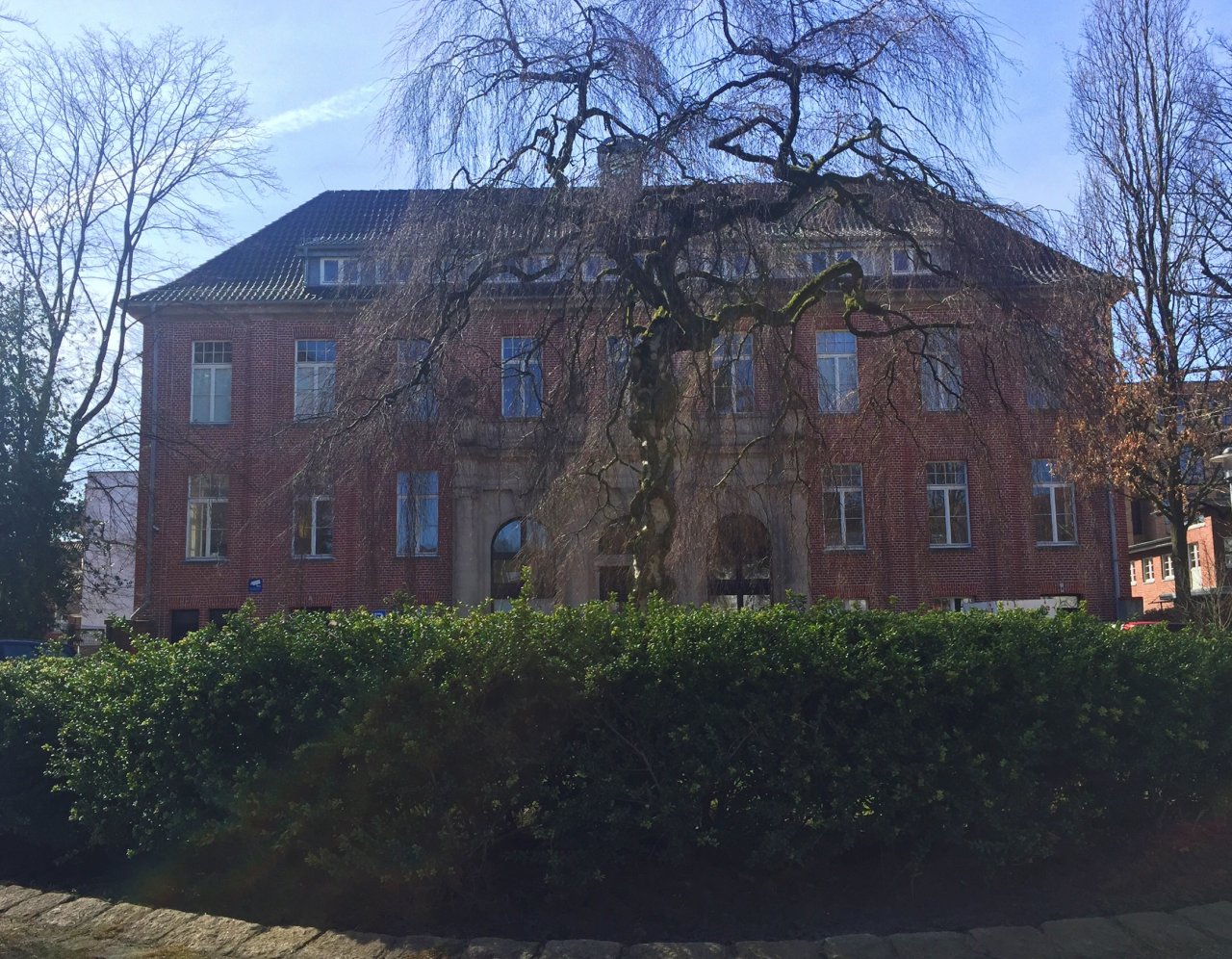 In February TH Airport Consulting has moved to a new office location in a beautiful region of the northern part of Hamburg. The office building is of typical red brick style near City Park. Besides the pleasant neighbourhood, our office is also conveniently accessible by public transport within 10 minutes from Hamburg Airport.
02/2018
New member in our team
In February we welcomed our new team member Chenye Yu. With a master's degree in Traffic and Transport from TU Darmstadt and first experience in airport master planning, she brightens our team with her young but creative competence.
Archive 2017
12/2017
Review of the latest projects from 2017:
During the last 3 months we have successfully completed an assessment at King Abdulaziz International Airport (JED) and Medina Prince Mohammad bin Abdulaziz Airport (MED) of the airport infrastructure and its operation under specific requirements during the Hajj pilgrimage and started to develop initiatives for future optimization. Through this very high profile project in Saudi Arabia we help to enhance the experience for millions of pilgrims each year.
Since 2017 we've been supporting Hamburg International Airport in establishing 14 additional walk-boarding gates in a new satellite building on apron 2 to cover short to medium term capacity shortages. We have determined functional requirements and layouts, defined necessary processes and analysed the needed capacities through simulation. In addition we have continued our services for the expansion and modernization projects of Pier South by coordinating and defining all necessary requirements for the architectural design.
10/2017
The ACI EUROPE Taskforce on the Passenger Experience completed its work on the 2nd Edition of the landmark "Guidelines for Passenger Services at European Airports". Torsten Hentschel, the Rapporteur (Spokesman) of the Taskforce, coordinated the process and our whole team contributed valuable parts e.g. on elderly travellers, landside security and strategic concepts to enhance the passenger experience. The guidelines will be released during the ACI World & ACI EUROPE Annual Congress, General Assembly & Exhibition in Brussels in June 2018.
10/2017
TH Airport Consulting attended the 27th ACI Africa/World Annual General Assembly, Conference and Exhibition in October in Mauritius. Our Managing Director Torsten Hentschel presented on " Technology vs. Human Touch " at the Customer Experience Forum and on " Maintaining the Passenger Experience at Airports under Increased Landside Security Requirements " at the meeting of the Security and Facilitation Committee.
08/2017
Fraport AG submits building permit application for Pier G
Fraport AG submitted the building permit application to the City of Frankfurt for the construction of the new Pier G at Frankfurt Airport (FRA). The new pier will provide cost-saving, no-frills ground handling for LCC traffic and will be fully integrated into the airport's hub function. It will be completed within altogether three phases of which the first is scheduled to be finished by 2020 and capable of processing up to 5 million passengers per year (see Fraport's press release ).
Together with IMPAC, we have actively engaged in the planning processes by among others delivering concept developments and a comprehensive program of requirements for the new pier.
08/2017
Academic research studies in collaboration with TH Airport Consulting finalized
TH Airport Consulting sponsored and supervised research studies on the passenger experience in cooperation with Kühne Logistics University (KLU), Hamburg, as well as Hochschule Harz, Wernigerode, over the course of 2017.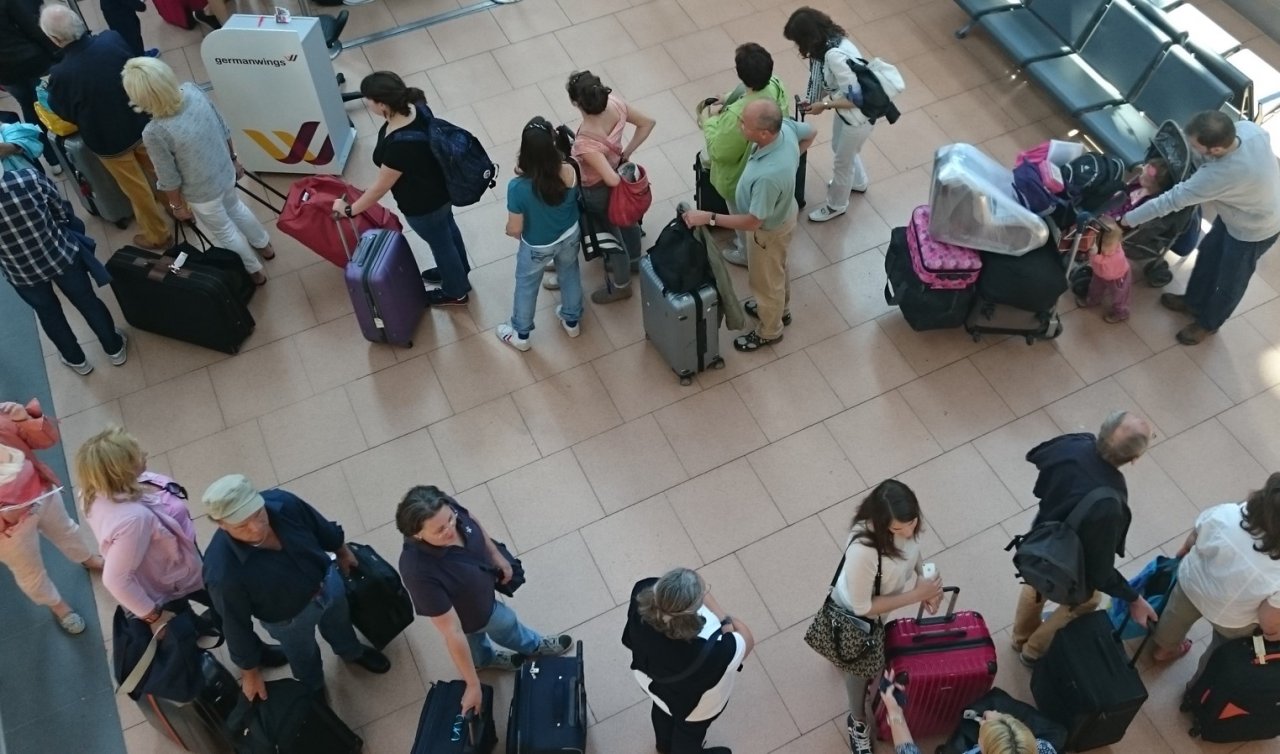 The first study "Low-Cost Carrier Passengers at Airports – Knowing Their Needs and Expectations to Enhance the Passenger Experience" , by Gesa Klingenberg, challenges the assumption that LCC passengers are generally not considered a sustainable source of income for airports. Driven by a tendency towards hybrid business models and increasingly diverse passenger segments, low-cost carriers bring more demanding passengers to airports. A generations-based segmentation, a comprehensive literature review, as well as on-site computer assisted passenger interviews, support the conclusion that LCC passengers are not explicitly cost-conscious and in fact do require certain services and offerings at airports.
The second research study "Maintaining the Passenger Experience at Airports Under Increased Landside Security Requirements" , by Martin Neuser, provides recommendations for airports that find themselves in the dilemma of balancing the must to increase the security level at their landside areas and to give satisfaction to their passengers at the same time. Shocked by horrific terrorist attacks in the course of 2016, airports require best practices with regard to the implementation of landside measures without compromising the passenger experience. Results, stemming from interviews with internationally acknowledged airport experts, as well as a comprehensive online passenger survey, provide best practices for the implementation of measures without compromising the experience of passengers at airports. Psychological security perceptions, the consideration of the passenger's subjective acceptance, as well as the provision of visible police patrols and high-definition surveillance cameras are key components here.
01/2017
Academic research studies in collaboration with TH Airport Consulting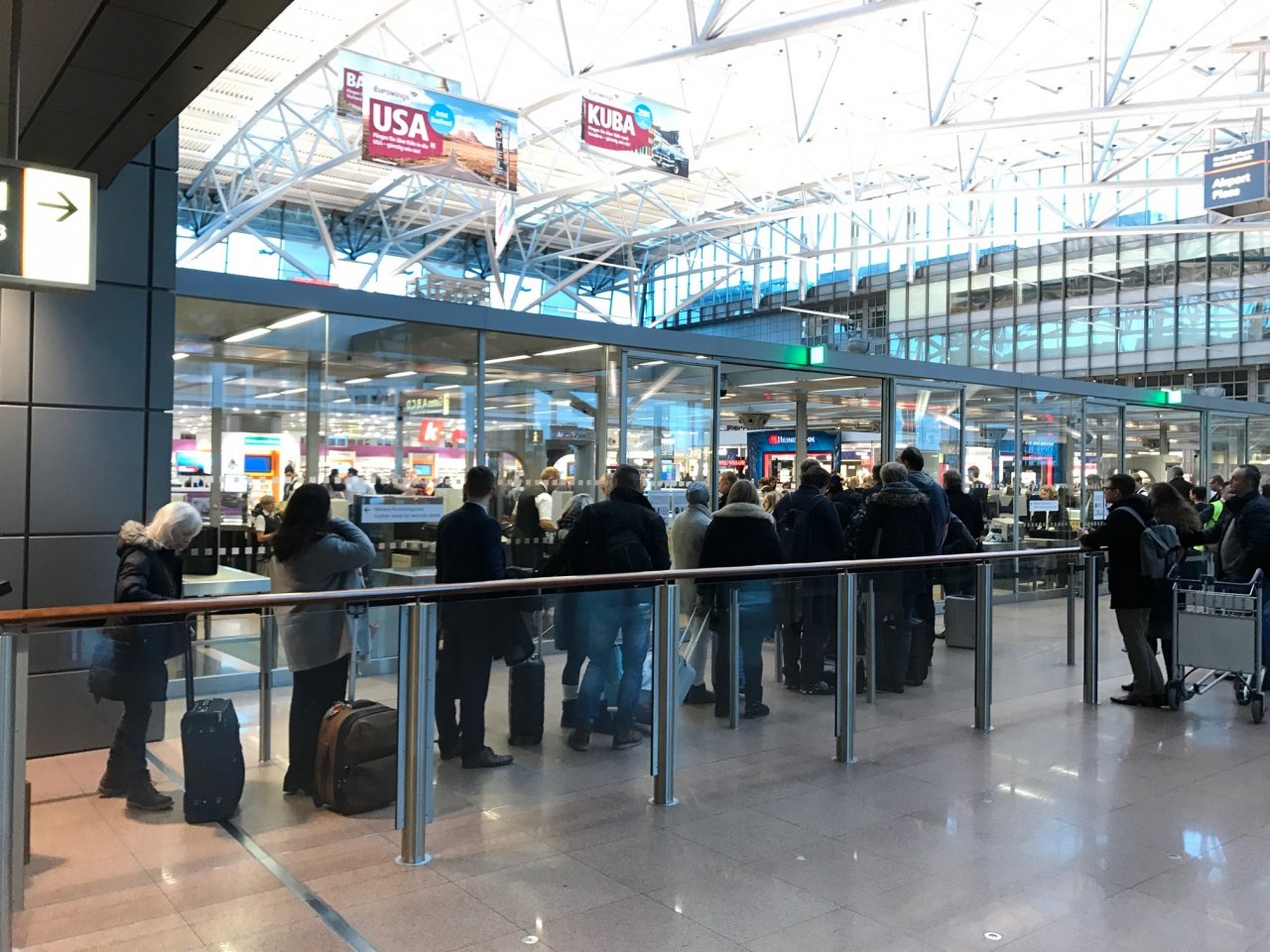 TH Airport Consulting currently sponsors and supervises research studies on the passenger experience in cooperation with Kühne Logistics University (KLU), Hamburg, as well as Hochschule Harz, Wernigerode. The case studies both rest upon the ACI EUROPE Guidelines for Passenger Services and examine key issues regarding ways to enhance the passenger experience. While the first study examines the particular needs and expectations of low-cost carrier passengers in association with means to boost their experience accordingly, the second one aims at providing recommendations & initiatives on how to maintain the passenger experience under increased landside security requirements at airports. To gain a profound elaboration of the topics, the authors Martin Neuser, who is now also working as an airport consultant in our team, as well as Gesa Klingenberg, conduct several expert interviews as well as passenger surveys.
Archive 2016
12/2016
News from our latest projects:
Frankfurt International Airport : In collaboration with our network partners from IMPaC we have actively been involved in the concept design for Terminal 2 considering various options for its future integration into the Star Alliance hub operations.
Karlsruhe / Baden-Baden Airport : We have completed our design work for the expansion of the security checkpoint. In close cooperation with the airport management and the responsible authorities we have developed an optimized layout for higher throughput and enhanced space utilization.
Hamburg International Airport : Based on forecasted flight schedules we have determined future terminal capacity requirements for the time period until the year 2035. For this purpose, we have developed a highly efficient simulation tool which could easily be applied for other projects.
04/2016
Next Generation of Boarding Counters have been launched at Hamburg Airport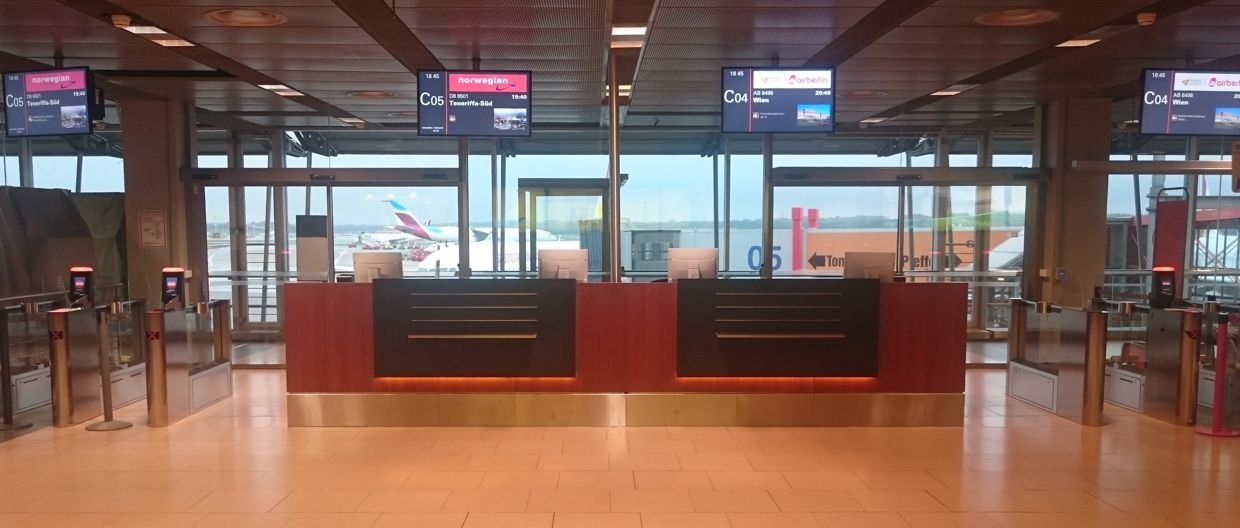 Passengers at Hamburg Airport enjoy the next generation of boarding counters. The new counters are designed and built taking into account not only current and future operational needs, but also to ensure a welcoming atmosphere for passengers. We provided services from the first concepts until start-up of the new counters. Additionally, TH Airport Consulting supports several ongoing modification projects of the concourse areas.
03/2016
ACI EUROPE Taskforce on the Passenger Experience
... commences work on a 2nd Edition of the landmark "Guidelines for Passenger Services at European Airports". Torsten Hentschel, Managing Director of TH Airport Consulting, has been elected Rapporteur (Spokesman) of the Taskforce which comprises senior staff of 14 European Airports and Industry Partners.
Archive 2015
12/2015
We successfully exhibited at the ACI Airport Exchange in Istanbul on 8-10 December 2015 and shared our ideas on how to enhance airports. Thank you for visiting us there!
Torsten Hentschel at the same time akted as chairman of the Airport Facilitation & Customer Services Leaders Symposium taking place at the conference. Six presentations have been delivered by leading industry experts on "What technologies should airports, large, medium and small, put their money and time into?" followed by a 30 minutes panel discussion.
06/2015
The ACI EUROPE World Business Partner Award went to Torsten Hentschel
ACI EUROPE awarded Torsten Hentschel, Managing Director of TH Airport Consulting with the "World Business Partner Award – 2015" for his outstanding contribution to the ACI EUROPE Facilitation & Customer Services Committee as well as the "Guidelines for Passenger Services at European Airports". The awards were announced on 26th of June during the Gala Dinner of the 25th ACI EUROPE General Assembly, Congress & Exhibition, hosted by Prague Airport. Torsten Hentschel (picture left) received the award from Arnaud Feist, ACI EUROPE President and CEO of the Brussels Airport Company.
"This impressively confirms that we have contracted the best!" , Manfred Schernus, CFO of Hamburg Airport.
For further information on the 2015 ACI EUROPE Awards please refer to the Press Release .
04/2015
International Arrivals Process Transformation Project at King Khaled International Airport, Riyadh:
We successfully delivered the final results to the Airport Management together with our project partner Munich Airport. Within the previous 6 months we have
Conducted an As-Is Assessment of all Business and Operation Processes
Developed an Airport Strategy and Initiatives to enhance the Passenger Experience
Detailed a new Operating Model based on Organizational Improvements and Quality Control
Suggested a Transformation Roadmap
03/2015
Recognizing the increasing share of senior passengers in Europe we supported a research study on "Enhancing the Passenger Experience at Airports for a Growing Number of Elderly Travellers" and presented the findings to the ACI EUROPE Committee for Facilitation and Customer Services. Our summary presentation can be downloaded here .
Archive 2014
12/2014
In 2014 TH Airport Consulting provided services at four different airports:
King Khaled International Airport, Riyadh: Development of a Strategy, Initiatives and a new Operating Model to enhance the Passenger Experience for international passengers (project together with Munich Airport)
Mumbai International Airport: Conceptual Design of three Airport Metro Stations in various options
Hamburg International Airport: Functional Design of Walk-Boarding Gates and an Immigration Checkpoint with Automated Border Control
Bremen City Airport: Preparation of Tender Documents and Requirements Specification for the Architectural Design of the "Smart Departure" project
06/2014
ACI-Europe has released the "Guidelines for Passenger Services at European Airports" which look at how airports can enhance their Passenger Experience by applying a systematic and innovative approach. The Guidelines are the result of extensive research carried out by a dedicated ACI EUROPE Taskforce on the Passenger Experience. As one of the taskforce core members TH Airport Consulting is the natural choice to assist Airports in implementing the principles of the Guidelines to enhance their Passenger Experience.
02/2014
As an invited speaker at the 2nd Airport Africa Expansion Summit in Cape Town, Torsten Hentschel has presented on "Terminals of the Future - Effects of Current and Future Trends on Airport Development in Africa". A copy of the presentation can be downloaded here.
Archive 2013
12/2013
The ACI EUROPE Taskforce on Passenger Experience completed its work on the "Guidelines for Passenger Services at European Airports" which will be published after adoption of the ACI EUROPE Board in 2014. As a core member of the taskforce Torsten Hentschel, the managing director of TH Airport Consulting, has substantially contributed to the guidelines during numerous meetings in 2012/13.
12/2013
In 2013 we have continued our work at the airports of Hamburg where we generated layout options for the various development phases of the concourse area and Bremen where we refined the decided option and specified the requirements for further design phases of the "smart departure" project. The exciting work at both airports will continue in 2014.
Archive 2012
10/2012
For the construction of 6 additional boarding bridges with new aircraft stands Hamburg Airport has submitted the application for approval. The related functional planning for the expansion of the concourse was created by TH Airport Consulting, thus allowing for more comfortable handling and increased quality of service for passengers. We wish the airport every success for this project with an estimated budget of 50 to 60 million euros.
07/2012
Terminal of the Future: Hamburg Airport has started together with TH Airport Consulting an investigation for the future development of its passenger infrastructure. As a first step, the planning parameters and future capacity requirements will be determined. Layouts will be developed for the entire terminal, which include the latest technology such as automated border control, automated baggage drop-off and automated boarding pass control. Further measures to increase the quality of service will be examined.
Archive 2011
09/2011
After selection of the preferred option for the development of the airside terminal infrastructure at Hamburg International Airport we continue our services with the concept refinement of the various project stages. For the coming 4 years we will support the aviation department with capacity analyses, layout design, the development of requirements specifications and operational concepts as well as coordination during implementation and start-up.
02/2011
Bremen Airport contracts TH Airport Consulting for the optimization of the departure area of their main terminal building. Within the coming months we are going to determine the needed capacity for the year 2020 and develop layout options for the departure concourse and a centralized security checkpoint. The result will be an optimized configuration which will enable Bremen Airport to enhance their service quality and operational efficiency in the near future.
01/2011
ACI-Europe welcomes TH Airport Consulting as a new World Business Partner. As a WBP we are going to participate actively in the ACI EUROPE Committee for Facilitation and Customer Services. This membership will not only enhance our standing in the airport industry but will also be to the benefit of our clients.
Archive 2010
10/2010
TH Airport Consulting has been contracted for the conception of future layouts for the airside terminal infrastructure at Hamburg International Airport. In a first step the planning parameters will be coordinated and issued in a requirements specification. Layout options for the airside concourses will be prepared and evaluated. This also includes the development of interim measures to fulfil the requirements in the coming years. We are looking forward to a successful cooperation with Hamburg Airport.
10/2010
To ensure safe operation of the new B747-8 at Hanover Airport an analysis for airside compatibility will be provided. The analysis will form the basis for the further approval process by the German authorities. We are pleased to join forces with Logplan in this project.
10/2010
TH Airport Consulting has been founded by Torsten Hentschel in Hamburg, Germany. The company provides consulting services for airports with a focus on Terminal Planning, Airport Processes and the management of complex airport projects. Future clients will be airport operators, airport services providers, airlines, authorities as well as global architecture and planning offices.